UNESCO-World-heritage site Wachau Valley is among our favourite weekend getaways from Vienna; best spot for a 'blue Danube river cruise', bike and winery tours, and seeing world heritage treasures such as UNESCO-recognised Melk Abbey. Wachau was my commuter destination for two years. I was lucky enough to get a postgraduate scholarship between vineyards, medieval market towns and baroque landmarks.
Wachau Valley In Brief
Around one hour's drive west of Vienna, the Danube enters into lush hills with granite tops, passing terraced vineyards, historic villages, and ruins of medieval castles. It's a little warmer and sunnier in this 30 km long valley between Krems and Melk than in the rest of the region. The heavy mixture of culture and nature makes Wachau Valley a fabulous outdoor experience, and a UNESCO World Heritage and Nature site..
The best cultural spots of Wachau are Melk Abbey, a picture-book baroque architecture gem; the medieval market town of Krems, Göttweig Abbey, the ruins of Duernstein castle (where English crusader and King Richard Lionheart was held prisoner), and of Aggstein castle.
The best nature trails include the Danube bike path ('Donauradweg') and the Welterbesteig, a 180 km long hiking trail.
What To Do In Wachau Valley
Boat Trips
There is a good number of boat trips through the valley. The most extensive trips cover the route from Krems to Melk and back. Smaller local operators also offer mini trips from Spitz to Emmersdorf or Dürnstein and back.
If you want to visit Wachau from Vienna in a day, consider taking a day tour that includes a boat ride. For more information on the best boat tours included in a day trip, go to Wachau boat trip.
Melk Abbey
My Austrian primary school classroom was decorated with a huge poster of Melk Abbey. The yellow and cream baroque building towering above the Danube is a key Austrian landmark, and another UNESCO World Heritage site. It has been inhabited and run by Benedictinian monks for almost 1,000 years. Locals and travellers visit the abbey not least for its spectacular church and library, boasting vibrant baroque frescoes, marble pillars, domes and vaults with gold plated decoration. The abbey also runs an excellent grammar school, and hosts regular music festivals and cultural events.
The most convenient way to visit Melk Abbey from Vienna is to embark on a Wachau Day Trip. You will pass lots of nice local towns, among them Krems, a really picturesque market town. Between April and October, you will also cruise the Danube by boat. The highlight of the tour is definitely Melk Abbey. This is a great 'lean-back-while-seeing-much' coach tour. The tour includes a hotel pick-up option at many Vienna hotels.
If you prefer to see Melk Abbey with a small, individual group (using an estate car) and like wine, get onto the fun winery tour, which departs from Vienna.
Wine Tasting And Bike Tours
The Danube bike path leads along both sides of the Danube. You can change sides in Melk and Krems. The path is mostly flat, while gradually declining downstream, towards Vienna. The path is lined with sweet little villages such as Emmersdorf, Spitz, Aggsbach, Weissenkirchen, and Dürnstein. And all of them host wineries with some of the best Austrian wine.
I utterly enjoyed this small group culture and wine tasting tour through Wachau Valley. Eight people in a minivan with an entertaining and knowledgable tour guide can go a long way: for example to a hidden old wine cellar, excellent white wine and schnaps tasting, medieval castles, baroque monasteries and the sandy shores of the Danube. This is one of the most popular day trips from Vienna. Read my tour review.
Wachau Tour: Wine Tasting and Biking
This is the best guided bike tour through Wachau. It takes you from Vienna to Wachau Valley along the Danube, mixing sightseeing with moderate workout and proper wine tasting. You will drop into those small family run wineries which shape local life in Wachau. My favourite along this trip was Dürnstein village. Some 800 years ago, English king and medieval crusader Richard Lionheart was imprisoned there. You can still visit the ruins of the castle where he was held. Learn more about the Wachau tour.
Grafenegg Castle
Grafenegg is a romantic 19th century castle with medieval origins, and a real local favourite. Located on a hill near Krems, it overlooks the Danube and Wachau Valley. I remember my first visit to the annual Christmas market there, magic. The castle boasts turrets and statues of knights, a chamber of arms, a hall of knights, several elegant salons, a chapel and beautiful gardens.
Throughout the year Grafenegg runs high-profile musical events, among them the annual New Year's Eve Gala and the Summer Festival. The Christmas market at the castle attracts people from all over Lower Austria and Vienna. Visit the castle's website for the full programme (German only).
Wachau Valley Apricot Trail
The Wachau is Austria's apricot orchard. Thanks to its mild climate and ideal soil, apricot trees grow in abundance. Each March and April, locals flock to Wachau to experience the apricot bloom, and July to early August they return for the apricot harvest.
The Wachau Valley Apricot Trail leads you through 4.5 kms of beautiful apricot orchards, which belong to a local apricot farm. The farm shop itself stocks all sorts of home made apricot goodies, from apricot schnapps to chutneys, jams and chocolate. The trail is open between April and October, and is located a five kilometres from Krems city centre.
Location: Weinhof Aufreiter, 3506 Krems-Angern, Dorfstrasse 34
How To Get There
There are direct trains from Vienna's Kaiser-Franz-Josefs-Bahnhof to Krems. (Access train time table here.) If you are short on time and want to see as much as possible, consider private car transfer (Mercedes E-Class or Audi A6) or your own private guide and car. The most popular destinations in Wachau are at 70 to 90 km (49 to 55 mi) distance from Vienna's city centre.
Where To Stay In Wachau Valley
There are a couple of nice and relaxing hotels and Bed and Breakfasts in Wachau Valley. They are usually good value for money and offer spacioius rooms.
The Hotel Restaurant Zur Post is one of those typical houses in Melk: yellow façade, white window frames, and red pelargonias cascading from its windows. It's one of very few four star hotels in the area. From the building and its best rooms, you can see the monumental Melk Abbey towering over the town. The modern rooms are friendly and tastefully furnished.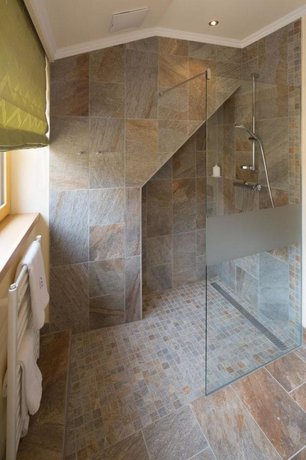 The Hotel Zum Schwarzen Bären is a 300-year-old tavern turned into a four star wellness hotel and spa. (The main room of the tavern once served as a stable for those horses which dragged the Danube ships upstream.) The rooms are simple and spacious, as you'll find so often in that area. Don't miss the wine cellar with its vaulted ceilings used for wine tastings, and the lovely spa. The hotel is located in the sweet little village of Emmersdorf, just opposite Melk Abbey.
My favourite places to stay – those big on charm – are actually located just outside of Krems, close or along the Danube.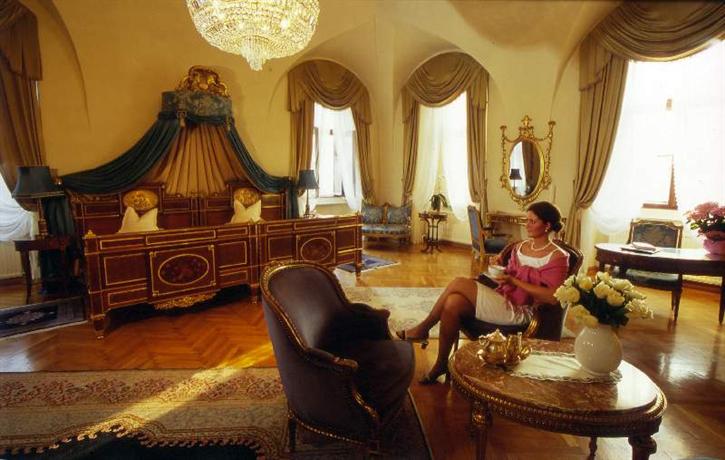 Hotel Schloss Dürnstein is the Wachau Valley's top luxury hotel. You can take scenic Danube boat rides during the warm months directly from Dürnstein. The baroque castle hotel itself boasts luxurious, spacious rooms. Best of all is the terrace providing an unparalleled view of the Danube. A sweet retreat for a romantic weekend outside of Vienna.
A wine growing estate, a spa and wellness spot and a food heaven serving home grown vegetables: The Gartenhotel & Weingut Pfeffel Dürnstein is a solid four star hotel with a few nice extras.
Ad Vineas Gästehaus Nikolaihof Mautern an der Donau: This is my favourite romantic B and B in the area. During my postgraduate, I spent many evenings under the large tree in the court yard of this winegrowing estate, sipping 'Federspiel' or 'Steinfeder' wines. The rooms and family apartments of the adjacent new guesthouse are simple but spacious. Nikolaihof is located in Mautern, just opposite Krems, across the Danube.
back to Day Trips from Vienna: Salzburg, Bratislava, Wachau, Budapest, Burgenland, Vienna Woods
back to Vienna Unwrapped homepage