To find the perfect Vienna Woods hotel for a weekend in Vienna's countryside, start with these nine top choices: from a 19th century palace hotel in a spa town, a romantic tavern in a historic market town, or a hideaway wine growing estate in a sleepy village. Having said that, I have sifted through hundreds of accommodations across several square miles. As I grew up in Baden bei Wien, the epicenter of elegant hotels in the Vienna Woods, you will get the inside scoop.
1. Castle Hideaway At Hotel Schloss Weikersdorf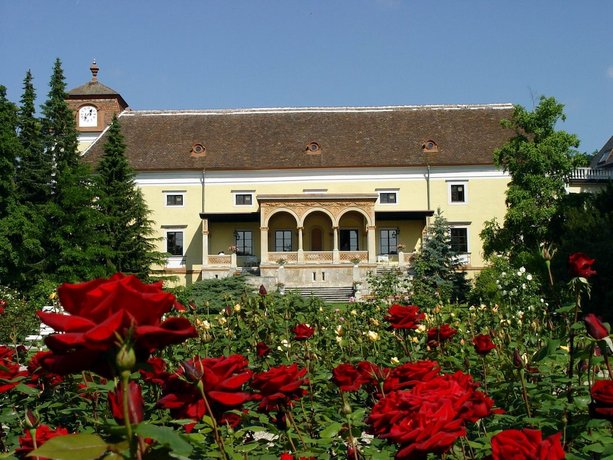 If you love historic country house hotels, Weikersdorf castle is a lovely choice. In fact, this palace dates back to the 13th century, and borders charming Doblhoff park famous for its rose gardens. The Vienna Woods and the city centre of Biedermeier spa town Baden are a ten minutes walk from there. Because Baden was one of the Imperial summer residences, expect a beautifully restored historic town center and pedestrian area, breathtaking Kurpark, regular summer concerts and operettas. Other than that, Baden's grand casino makes for a sparkling night out. Nearby the hotel you will find the stop of Opernbus, a regular bus services that takes you to Vienna's city centre in 40 minutes.
Where to book:Get rates and customer reviews forHotel Schloss Weikersdorf.
2. Biedermeier Palace Grand Hotel Sauerhof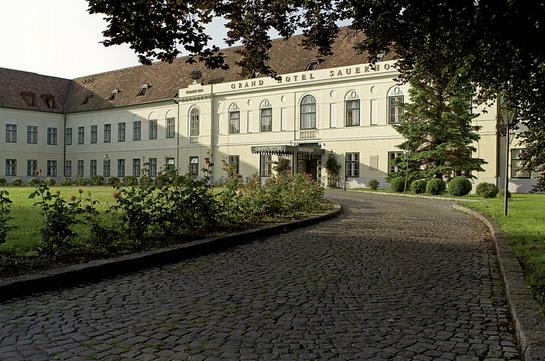 Located right in the spa town of Baden bei Wien, the elegant Biedermeier palace promises a sophisticated country house hotel stay. Where composers like Ludwig van Beethoven, Carl Maria von Webern and Mozart's teacher Antonio Salieri used to lunch, you can now plough through a lovely swimming pool and dine in the hotel's exquisites restaurant. Most of the guest rooms boast typical Viennese old-world interiors with fine furniture in cherrywood and nutwood. On a few occasions the romantic courtyard hosts local seasonal events.
A short walk from the hotel you will find Baden's Grand Casino, Kurpark with its classical summer concerts and another Beethoven house including an intriguing museum.
Where to book:Get best rates and customer review for Grand Hotel Sauerhof;
3. Countryhouse Luxury At Relais et Chateaux Hanner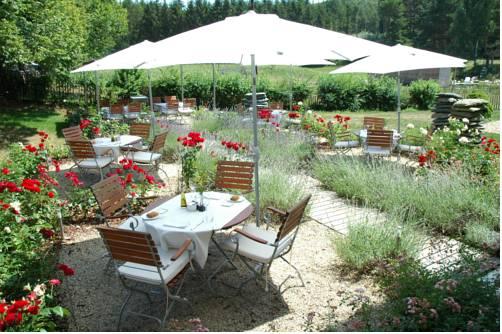 At this Vienna Woods hotel you really feel right in themiddle of the woods, and you are. Hotel Hanner, a member of the Relais et Chateaux group, is located in Mayerling, around 30 km south west of Vienna. Mayerling is best known as the location of the tragic double suicide of Crown Prince Rudolph and Mary Vetsera. The most stunning element of this otherwise quite simple hotel is its gourmet restaurant(one of the best in Austria), and its huge natural swimming pool/biotope next to a lavish lounge area and a sculpture garden.
The surroundings are good for hiking and visiting nearby historic towns, and Heiligenkreuz Abbey. A great summer spot if Vienna gets too hot.
Where to book:Get best rates and customer review for Relais et Chaeteaux Hanner;
4. Wine Weekend At Hotel Landhaus Moserhof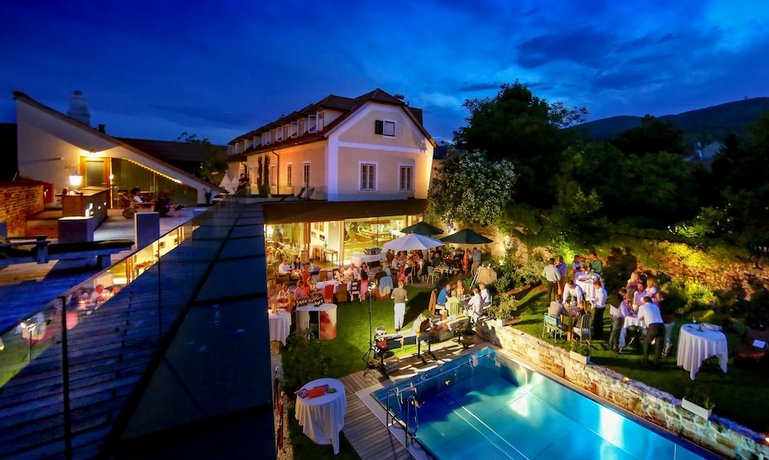 If you are after a romantic and stylish hideaway in the Vienna Woods, do check out Moserhof. Quite outstandingly, the Bugelnig family has done a great job in turning their 600-year old estate into a charming countryside bolthole. Not only are the guest rooms spacious but highly individual: Choose between rooms with vaulted ceilings, terraces, in historic Biedermeier or modern countryhouse style. What's terrific during the mostly hot summers in Wienerwald, Moserhof also has a fantastic outdoor pool.
Locationwise, Moserhof sits right in Renaissance vintner village of Gumpoldskirchen, which is full of excellent wine taverns. Right above the village, a couple of lovely vineyard hiking paths lead to nearby Modling and winery village Pfaffstatten.
Where to book:Get rates and reviews for Hotel Landhaus Moserhof;
5. Spa Bliss At Thermenhotel Gutenbrunn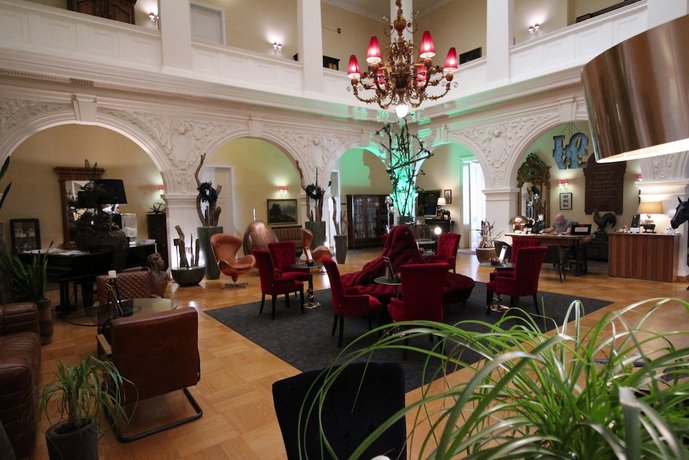 Since Thermenhotel Gutenbrunn is a stone's throw from my father's flat, so I know it quite well. The 18th century villa with its 37 rooms is spacious, fresh and mixes traditional interiors with contemporary chic. What makes it special is the grand salon with its piano and white arcades, and the regular classic and jazz hours in Gerard's cosy salon.
As with Schloss Weikersdorf, the Vienna Woods start at a few minutes walk from there, Baden's city centre is a five minutes walk. What's more Romertherme spa and wellness center is just around the corner. A sweet weekend getaway from Vienna.
Where to book:Access rates and customer reviews for Villa Gutenbrunn.
6. Vienna Woods Retreat At Hotel Krainerhütte Helenental
Back in the 18th and 19th century, Helenental valley was a popular summer retreat and leisure area for affluent Viennese. Among other celebrities, composer Ludwig van Beethoven loved to take walks along the tranquil Schwechat river. Quite at the deep end of that valley you will find Krainerhütte, a contemporary hotel focusing on wellness.
Mostly, guests use it to relax, go hiking, biking, joining seminars, and visiting the spa town of Baden with its Grand Casino, the Habsburgs' Mayerling hunting lodge, and Heiligenkreuz Abbey. Quite similar to Hotel Hanner, Krainerhütte is a Vienna woods hotel in the most peaceful setting. Great spot if you love nature and contemporary facilities.
Where to book:Get rates and customer reviews for Hotel Krainerhütte.
7. Historic Wine Estate Freigut Thallern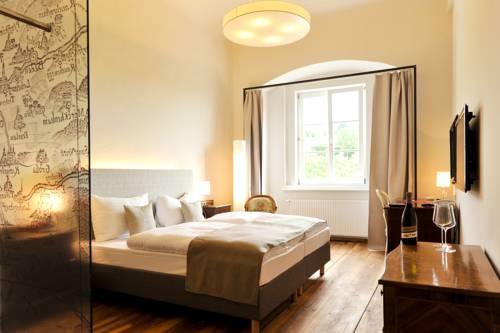 When I was a child, I would visit Freigut Thallern with my parents to have one of their famous breaded chickens. Since then, the 12th century winegrowing estate has moved on to offer a few exclusive and really charming rooms. While the old tavern still exists the cuisine and wine offer have clearly moved to a higher level. Most of all, Thallern is a perfect place for wine lovers – there are several wine tasting sessions, where you can try different wines from the 30 hectare estate.
As for the immediate surroundings, the adjacent Renaissance vintner village of Gumpoldskirchen and the lush hills of Anninger with their hiking paths are another big plus for this place.
Where to book:Getcustomer reviews and rates.
8. Tracing Beethoven At Hotel Höldrichsmühle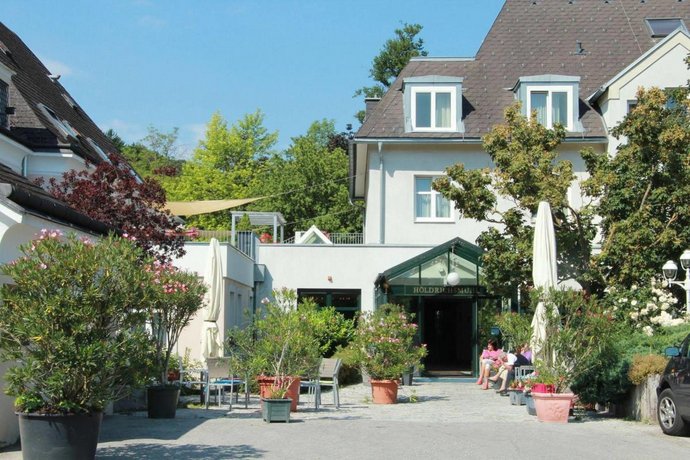 Höldrichsmühle is a solid four star hotel in a perfect location for a Vienna Woods hotel: The 18th century house with contemporary interiors sits on top of Hinterbruehl market town, right along the best hiking and bike paths to the Vienna woods region of Anninger. Like at Helenental valley, Ludwig van Beethoven used to find inspiration walking on the many forest hiking paths. And like in Baden, the forest paths in this area are scattered with little 19th century stone temples, wooden pavilions and wayside crosses. Although a little outdated, this is a quality hotel for people who want to venture out into the Vienna Woods while staying close to Vienna (at 10 km distance).
Where to book:Access rates and customer reviews forHöldrichsmühle.
9. Vienna Woods Hotel Closes To Vienna: Suitehotel Kahlenberg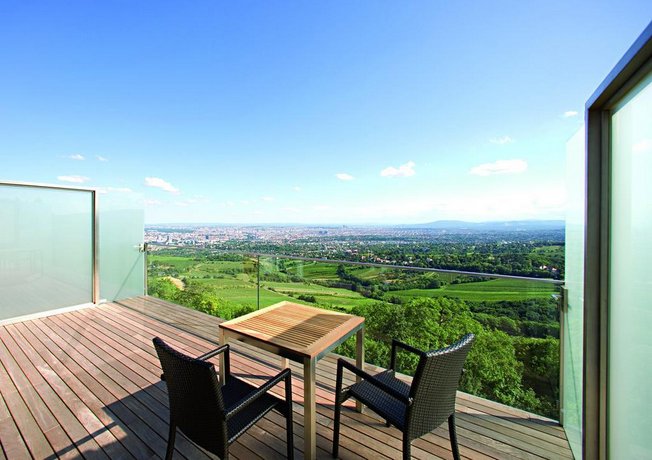 The suite hotel on Kahlenberg mountain is contemporary Vienna Woods hotel that is alsoclosest to Vienna. It's in fact still part of it. While the hotel's interiors are a little outdated its location right on top of green Kahlenberg mountain is priceless.
From many rooms and from the panorama terrace, you'll get an excellent view of Vienna, the Danube and the Danube Island. Locals love to hike there, and use the nearbynature adventure park. A bus and the metro take you to Vienna's city centre in 50 minutes.
Where to book:Access rates and customer reviews for Suitehotel Kahlenberg;
back to Hotels Vienna Austria
find out more in Visit Vienna
back to Vienna Unwrapped homepage