My Vienna travel tips for ladies have fuelled a few girlie trips, ladies' weekends, and mother-and-daughter treats. Where I get those from? Whenever I am back in Wien, I arrange girlie afternoons with my daughter, ladies nights out with my local friends and cultural things with my mum and sister.
Street Market And Vintage Shopping
First on my to do list in Vienna is shopping, admittedly. There are a few street markets in Vienna that are excellent for vintage and food shopping. I would head for Naschmarkt on Saturday mornings to get the best vintage pieces at the flea market in the upper section. On lucky days I would even spot 60-year old vintage leather bags for €25 and these Viennese point stitch bags on the photo, vintage. What is most convenient – you can seamlessly continue your vintage hunt at nearby shops. Local shopping tour guru Lucie once introduced me to her insider shopping finds there.
If I meet friends for brunch, then Karmelitermarkt in the former Jewish district gets on my radar, it's just less crowded and has really original cafes, like Zimmer 37. Since I discovered Kutschkermarkt at a short tramway ride from the center, I always go for coffee and snacks to farmer Waltraud Froihofer's little shop.
Charming Boutique Museums
While the emphasis here is on museums rather than boutiques these places are equally inspiring. One of my favourites is quiet Augarten porcelain manufactory, which has a shop and runs guided tours with the opportunity for second hand bargain buys. Another small museum is Albertina Vienna, which excels in paintings and drawings and is right in the city center. Most of the time the Albertina shows at least one intriguing temporary exhibition. And the gourmet restaurant in the museum is no disadvantage, either. If I am asked for insider museum tips by my friends abroad, I always suggest the Hapsburgs' Museum of Furniture as most of them love historic interiors.
Patisseries Galore
I won't get my almost teenage daughter anywhere without adding a decent treat in a patisserie or coffeehouse. With this in mind I have done my homework and developed a shortlist of the best cake shops in Vienna to draw from. If none of them is on our route, I back up with fine coffeehouses such as Café Museum, Café Landtmann or Café Diglas (photo) – more in my list of Vienna Coffeehouse Favourites. My newest top favourite is the Salon Privé of Cafe Gerstner right next to the Vienna State Opera (photo). It's hard to know what is more opulent, the interiors or the cakes…
Operetta Fun
Back in London where I live I can visit tons of musicals, but no operettas. They are Austria's historic musicals and are the most fun of Viennese classical culture. Watching an operetta at Volksoper such as Countess Maritza, The Merry Widow and Johann Strauss' The Bat is like soaking in a bath tub and listening to easy music while leafing through a magazine. In the summer, Vienna and various places in the surroundings stage open air operettas – a must see!
Cosy Bars
Finally, my Vienna travel tips for ladies need a round up with a small bar tour for my girl friends and me. This may be just the icing on the cake for your and your friends: It includes a couple of glitzy and unusual places such as Rote Bar, Puff Bar and Tanzcafe Jenseits.
The latter two are former hostess bars turned sophisticated hip place. It's old Vienna, but not as tourists know it.
Where To Stay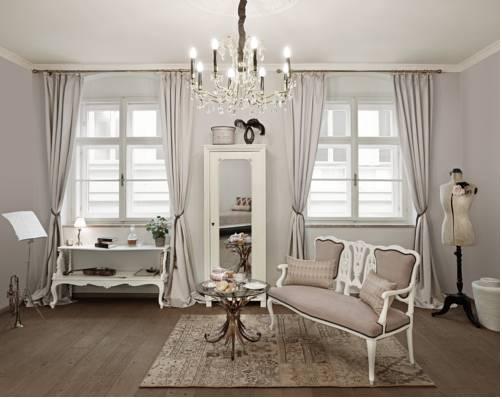 When my female friends from abroad ask me about the best places to stay I usually pick beautifully designed boutique hotels or apartments in the center or in trendy neighbourhoods. What usually gets the most 'wows' are Hotel Lamée in the center, which boasts a roof terrace with spectacular views of St. Stephen's Cathedral. As for small apartments, the Chez Cliché vacation rental in Naglergasse and Singerstrasse score highest. See other boutique hotels and apartment accommodation in Vienna.
More Vienna Travel Tips For Ladies
Get more inspiration from my ideas for a girlie day in town, if you haven't seen it already.
back to Vienna Starter Kit – Plan Your Vienna Vacation Using Top Tools
back to Visit Vienna – Free Vienna Vacation Tools and Travel Tips
back to Vienna Unwrapped homepage