With 5 levels, 12 platforms and 90 shops the city's main railway hub Vienna Central Station is complex. In German, the train station is called Wien Hauptbahnhof, Wien HBF or Bahnhof City Wien. To get around, see the central station map, Hauptbahnhof's exact location in Vienna, nearest hotels, restaurants and attractions, and fastest routes to the center and airport below.
Location of Vienna Central Station
For orientation, Vienna's central railway station is located about 2 km south of the Vienna City Centre, in the 10th district of Favoriten.
Address
Wien Hauptbahnhof, Am Hauptbahnhof 1, 1100 Vienna
Vienna Central Station Map
Once you enter the Vienna Central Station from Wiedner Gürtel you will find the Austrian Railways' Travel Center, marked in red in the map below. In Austria, the Austrian Railways are known as OEBB. Either buy your tickets at the train station's travel center and get advice on train routes and departure platforms. Alternatively use one of the 26 ticket machines for self-service which are scattered throughout the railway station.
If you intend to travel from North to South, for example Prague or Graz, use the overground platforms 3-12. To use the speed railway S-Bahn, descend to the underground platforms 1 and 2.
To access the Vienna Central Station map including sub levels in 3D in a separate window, click here.
Vienna Central Station to City Centre
For the fastest route to the city centre from Vienna's Central Station take metro U1. In about 5 to 7 minutes you alight either at Karlsplatz for Ringstrasse boulevard, or at Stephansplatz in the historic centre.
Trains To Vienna Airport
From Vienna Central station, take the IC or Railjet to Flughafen Wien (Vienna International Airport). Between 5.42 am and 10.12 pm they run every 30 minutes and take 20 minutes to the airport. Alternatively, you can also take the S7 S-Bahn regional service, which will arrive at the airport in 25 minutes.
Where to Find Lockers At The Railway Station
To use Hauptbahnhof's lockers, descend to the Lower Ground Floor 1, and find room 006 to 009.  Renting locker space at Vienna's main train station costs from just a few Euros per day. In the table below, you can see the different dimensions of available lockers, and prices per day.
| Size of lockers | Dimensions HxWxD | Price |
| --- | --- | --- |
| Small | 45x35x85 cm | € 2.- |
| Medium | 60x35x85 cm | € 2.50 |
| Large | 90x35x85 cm | € 3.50 |
| Jumbo | 90x50x85 cm | € 4.50 |
Source: OEBB, 2020
Hotels Near Vienna Central Station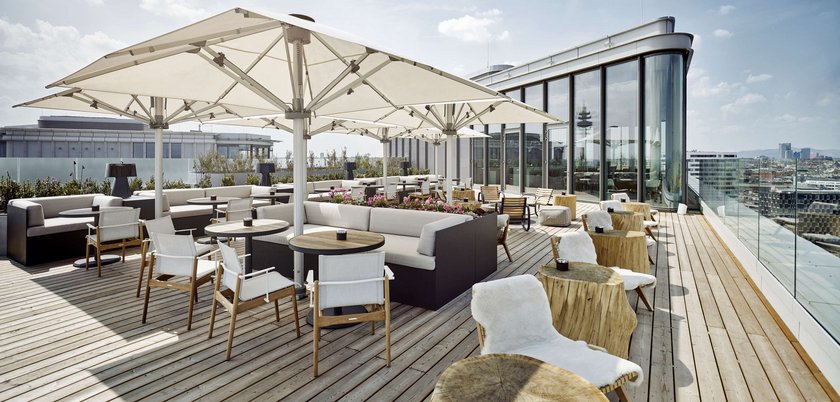 Within 500 meters from the Vienna Central Station you will find more than a dozen hotels. Because many of them date from after 2014 expect comfort and space. 
Among these hotels are sophisticated places like the Andaz Hotel am Belvedere by Park Hyatt (photo), quirky hotels like Hotel Daniel, and great value-for-money accommodation such as Motel One.
To search for the best online deals for these and other hotels and apartments, click on hotels near Vienna Central Railway Station.
Nearest Restaurants from Vienna Central Station
While you will find modern restaurants and take aways at the station, a few lovely eateries hide just nearby: For example, restaurant Der Ringsmuth serves excellent Austrian and contemporary cuisine and is just a minute walk from the station. Probably the best neighborhood café serving great value-for-money lunches is Café Goldegg, at 7 minutes walk from the station. For a 12 minutes walk, you will be rewarded with fine Austrian food at contemporary brewery Stöckl im Park right in the Belvedere gardens.
Addresses
Der Ringsmuth; Johannitergasse 1, 1100 Vienna
Café Goldegg: Argentinierstrasse 49, 1040 Vienna
Stöckl im Park: Prinz-Eugen-Strasse 25, 1040 Vienna
Nearest Attractions to Vienna Central Station
At just 13 minutes walk from Hauptbahnhof, Belvedere Palace (photo) leads the way to the city centre. Either go for a free walk through the baroque gardens or visit the palace and the Austrian National Gallery. During the warmer months, visit the Alpine Garden, which is even closer to the station.
Another impressive attraction nearby is the Museum of Military History, aka Heeresgeschichtliches Museum, at 15 minutes walk. If you love contemporary art and don't mind empty space, try the Belvedere 21 at 6 minutes walk.
Addresses
Belvedere Palace: Prinz-Eugen-Strasse 27, 1030 Vienna
Museum of Military History: Arsenal 1, 1030 Vienna
Belvedere 21: Arsenalstrasse 1, 1100 Vienna
Where To Travel FromVienna Central Station
Over the past few years, the Central Station has turned into a key European transport hub. This means Europe round trips via Vienna have become easier: There are more and faster connections from other European and Austrian cities, and you can change between trains from one spot. What's more, you now arrive directly at Wien Hauptbahnhof and Wien Meidling station, no matter from which European intercity destination you started.
From Vienna Central station you can travel across Europe along three main corridors
The Baltic-Adriatic corridor allows you to travel from Poznan and Warsaw via Bratislava to Vienna, and further south to Graz, Venice and Bologna.
Along the Rhine-Danube corridor you go from Strasbourg and Munich or Frankfurt and Nuremberg to Salzburg and Vienna, and further down to Budapest and Bucarest.
Taking the Orient-East Mediterranean corridor you can travel all the way from Hamburg and Berlin via Dresden and Prague to Vienna, and then further south east to Budapest, Sofia and Athens.
Within Central Europe, there are lots of fast and comfortable connections to Vienna. If you are located in Belgium, France, Germany, Luxembourg or the Netherlands, choose a high speed railway journey with Intercity Express (ICE), with Railjet if you are based in Budapest or Munich. From Brussels, Austria's new Nightjet service will take you in sleeper trains or couchettes to Vienna in about 14 hours.
Train Connections And Tickets
To find your way across Austria and Europe, search for the Austrian Railways' train connections in the widget below.
 From


 To


 Date
04.04.2016

 Time
15:40

Departure
Arrival
 


use more travel tools in Visit Vienna
back to Vienna Unwrapped