Hotel Sacher Vienna. Why is the Sacher the best and most famous hotel in Wien?
Staying there, you will not just accommodate yourself at one of the best addresses in Vienna.As a matter of fact, you will land right in the middle of local history. To provide a complete first-hand guide, I made my way from the café up to its most splendid rooms and wellness heaven.
Clearly the hotel is a top address for a European city break, and a member of Leading Hotels of the World. Since its make over, the Sacher combines classic Viennese style with modern and comfortable design. Unmistakably, the lobby, restaurant, bars and presidential suites exude old-world sumptuousness. One of the corridors on the ground floor boasts black- and-white photographs of celebrity guests, and possibly the Sacher family themselves.
Another advantage that is hard to beat is the Sacher's location opposite the Vienna State Opera at the start of main shopping boulevard Kärntner Straße. In addition, the 5 star hotel is just a stone's throw from top Vienna museums like the Albertina.
What Type Of Room Can I Book At Hotel Sacher Wien?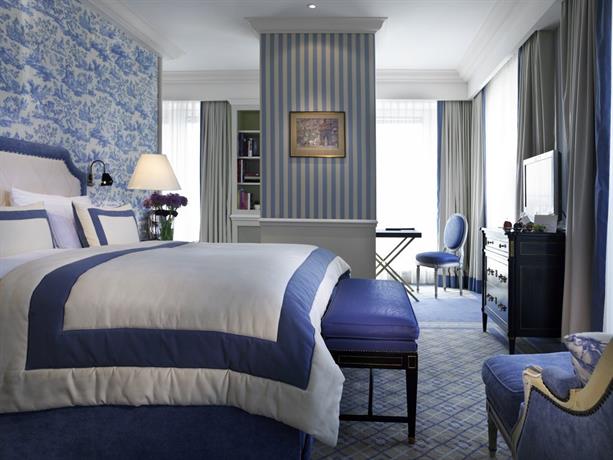 In fact, the Sacher has six categories of suites and rooms of between 30 and 165 square metres: superior rooms, deluxe and top deluxe rooms, junior suites and deluxe junior suites. If you love space go for the executive suites, one and two bedroom suites, and the presidential suites.
Many of the suites, junior suites and deluxe rooms display lighter colour schemes, bigger modernised bathrooms, and trimmed opulence. On a sunny spring afternoon I went up to one of the suites at the roof terrace: Not just the interiors were spectacular. When you stepped out, the view across Vienna and the view of the adjacent Vienna State Opera, baroque domes and gables was mind-blowing!
If you are allergic, choose one of the rooms or suites with wooden floors.
What Sacher does also well is to combine aesthetics with top notch technology. Hence, each of the 149 suites and rooms displays original works of art, flat screens, DVD players, and iPod docking stations.
What Is There To Do At Hotel Sacher Vienna?
Hotel Sacher Vienna. First and foremost, the Sacher has been lending itself to romantic opportunities: whether a wedding anniversary, Valentine's Day, New Year's Eve, or a honeymoon. At restaurant Rote Bar, for example, a pianist entertains dining guests every day.

If you love chocolate and blissful pampering you just have to try the chocolate spa treatment in the hotel's own wellness area. In this photo, the massage team completely covered me in a soft chocolatey body mask smelling of sweet cocoa beans. Find out more about this experience in my Vienna Spa Guide. Apart from massages you can use the sauna, fragrant herbal steam bath and gym.
Although the hotel's signature cake is available in most decent coffeehouses and cake shops the most original place to enjoy it is at the hotel's Café Sacher.
In the evening, many guests and outside visitors use the subdued atmosphere of Sacher's elegant Blaue Bar to enjoy cocktails and whiskeys.
How Much Does It Cost To Stay At Hotel Sacher Wien?
Depending on the season in which you travel, a double room costs from EUR 480 per night, based on a one-night stay.
Does Hotel Sacher Wien Have A Restaurant Onsite?
Instead of one restaurant expect a choice of three characterful food places: To celebrate a special occasion the red plush restaurant Rote Bar envelopes guests in red damask and daily live piano music. Between marvelous oil paintings and chandeliers guests enjoy fine Austrian cuisine, from Tafelspitz soup with semolina dumplings to braised beef roulades and light yeast Buchteln with powidl (plum compote) and vanilla sauce. The restaurants winter garden offers a more airy space, especially in the summer, when the windows are taken out to unite the space with the outside terrace.
In contrast, the Grüne Bar focuses on innovative Austrian recipes and international cuisine. Where warm green velvet meets with shiny wood panels, damask curtains and more oil paintings, celebrities from all over the world have dined during the past century. If you can't decide between 'Danube salmon', lamb with artichokes or 'Michi Bauer's potatoes', go for Sacher chef Markus Krenn's Blind Date surprise dinner.
For lighter snacks and drinks, and warm meals, attend the Sacher Eck, the hotel's brasserie-style outlet. Because it also offers lighter small meals the Sacher Eck is also popular with visitors of the Vienna State Operajust opposite. Similar to the Rote Bar the red velvet upholstery is hard to resist, and contrasts beautifully with the black and white floor and chandeliers. From an original Sacher Breakfast (optional with champagne) to Sacher sausages and Wiener schnitzel, this is also a fabulous place to haveSacher Torte.
Can I Park A Car At Hotel Sacher?
The hotel has a valet service that will take car of parking your car in a nearby parking garage for EUR 39 per day. Alternatively, you can self park your car at Kärntner Straße Tiefgarage parking garage, 100 meters from the hotel, for the same price.
Hotel Sacher Vienna In History
Hotel Sacher Vienna. In the second half of the 19th century Eduard Sacher founded the eponymouse hotel. He was the son of the creator of the famous Sacher Torte. After his early death his wife Anna Sacher took over (photo). From then on, the Sacher's meteoric rise was unstoppable. Very quickly, Anna Sacher established the hotel and restaurant as a top location for aristocrats and the upper class.
Following bankruptcy at the end of the 1930s the Gürtler family bout the hotel. At that time, there were simply too many impoverished artistocrats around. Until today, the family has been successfully running the Sacher. On top, managing director Elisabeth Gürtler also runs the Spanish Riding Schooland organises the lavish annualFête Impérialesummer ball.
Hotel Sacher In The Third Man
Hotel Sacher Vienna. My mother recalls the Hotel Sacher at the end of World War Two. At that time, the British Allied Forces confiscated it and used it as their headquarters in the occupied Vienna.
Famously, writer Graham Greene, who worked for the British Intelligence, took inspiration from the Sacher. After lunching there with the famous British spy Kim Philby he decided to write the script for the famous Third Man Movie in 1948.
In 2005, the hotel's building, dating from the 1860ies, received two additional roof top levels. However, they caused a real stir among tradition loving locals, although you can barely see them from the street.
Famous Guests At The Sacher
Hotel Sacher Vienna. Since its very beginnings famous guests from across the world frequented the Sacher. Among them Britsh aristocracy such as Edward III, and Wallis Simpson, Queen Elizabeth II and Prince Philip; and Prince Rainer of Monaco and Grace Kelly. Also US president John F. Kennedy was a guest at Sacher.
Definitely the most famous artists at Sacher include Leonard Bernstein, Jose Carreras, Placido Domingo, and John Lennon. Until now the Sacher remains a hot spot for international politicians, business people and celebrities.
Some Austrian artists and intellectuals, like opera doyen Marcel Prawy or writer Ernst Waldbrunn, even lived there.
Quite a few of my trip planning clients also choose the Sacher for a top notch family holiday, a shopping spree, or a cultural city break: Unusual for a 5 star hotel, children and dogs are welcome, and there is a baby sitter service available upon request.
Find outwhether busy Sacher hasavailabilities during your stay.
Search For More Hotels In Vienna
explore more hotel choices in Hotels Vienna Austria
go to Visit Vienna
back to Vienna Unwrapped homepage