Planning a honeymoon in Vienna Austria you organise an event with a ready set stage. The surroundings are so romantic you just have to fill in yourselves. Here is a guide of the most amazing honeymoon experiences and romantic hotels in Vienna to kick start your planning.
11 Best Honeymoon Things To Do
Visit A Ball And Take A Waltz Dance Lesson
If you have mastered the ballroom dance at your wedding you may well be up for more. Vienna's winter ball season and early summer offer great opportunities to let your other half and yourself shine on the parquet. Find the best Vienna balls.
If there are no balls or you want to practice beforehand, consider taking a private waltz dance lesson in a local town palace.
Take a Horse Carriage Ride
This is the first time I recommend a Fiaker ride. Romantic escapism clearly beats 'tourist score' on your honeymoon in Vienna. The largest stand of fiaker carriages is on St. Stephen's Square, next to Stephansdom. You can usually choose from a 20, 40 and 60 minutes ride. The larger rides include a route along Ringstrasse boulevard. To leave an even grander impression, there is always the white wedding carriage with optional live white pigeons at your service. Please be aware that fiaker horses get time off in case of more than 35 degrees Celsius.
Tour Old Danube On A Sofa Boat
The Old Danube is a quiet side arm of Donau, lining up colourful weekend cabins, riverside restaurants and a promenade. People love to rent boats and cruise around Gaensehaeufel island. Renting a stylish boat with a canopied sofa feels ultimately comfortable and quite private. The electric boats can be easily navigated by a joy stick. Lunch or dinner from a nearby restaurant can be served straight on your boat. Find out more in Vienna boat tour.
Tour Top Art Museum With Private Guide
Our elegant Museum of Fine Arts boasts lovely old paintings and sculptures. Guided tours are usually buzzing with people, though. To set your own pace hire a private guide for added insight into the Cabinet of Curiosities, the Picture Gallery, or the Collection of Greek and Roman Antiquities. If you want a quieter environment for your honeymoon in Vienna, pick a Thursday evening for the tour.
Get Wrapped In Chocolate
Who could better wrap you in chocolate than Hotel Sacher, inventor of the famous Sacher Torte? The legendary luxury hotel offers cocoa bean peelings, chocolate masks rich in antioxidants, cocoa butter massages and chocolatey body care. You don't need to stay at the hotel to book a treatment. The massage and peeling packages take between 60 and 90 minutes.
Find out more in Time to Chocolate.
Arrange A Rendez Vous at Salettl Pavilion
Generations of Viennese have had their rendez vous at discrete Salettl in the suburb of Döbling. The 19th century wooden pavilion charms with its vintage interiors and snug outdoor seating offering fabulous views of Kahlenberg and the city of Vienna. The best times of day to visit Salettl are mornings and lunch time. Go for a real Viennese breakfast (Wiener Frühstück) with Semmeln and soft eggs, or for the lavish champagne breakfast. For lunch, choose between Viennese dishes such as Schinkenfleckerl (baked pasta with ham) and international cuisine.
Address: Hartäckerstrasse 80, 1190 Vienna
Hike And Lunch At Villa Aurora
Once you have experienced Vienna's historic center change the frame for something new. I love to go for a hike in Vienna's green suburban hills but usually need an attractive goal for my efforts. That often happens to be Villa Aurora, Vienna's most romantic villa and restaurant. Set on Wilhelminen mountain, the 19th-century mansion in Vienna Woods-style offers fantastic rolled schnitzel and an unparalleled view of Vienna. Call +43 (0)1 4893333 to make a reservation.
Address: Wilhelminenstrasse 237, 1160 Vienna
Dance At Tanzcafé Jenseits
The Jenseits ('Beyond') is one of those plush retro bars you would wish to have discovered earlier. That is why it's on this list. This local evergreen is decorated with red brocade and golden mirrors, and illuminated by soft lights. The best of the former hostess bar (no more!) are the longdrinks and the separees. The bar is open Tuesdays to Saturdays 8.00 pm to 4.00 am.
Address: Nelkengasse 3, 1060 Vienna
Hide Away At Private Dining
The most romantic private dining place I can imagine in Vienna is Mezzanin7. You dine in an amazingly tasteful private setting of a historic townhouse apartment, along with vintage music and candlelight. The cuisine is Viennese with an eclectic touch.
You can also visit on certain days for afternoon tea. Find out more about the experience in Vienna Restaurant Mezzanin7.
Celebrate Candlelight Dinner At Giant Ferris Wheel
Vienna's iconic Giant Ferris Wheel at Prater amusement park offers candle light dinners for super romantic gatherings. You can rent your own cabin and choose from several three course menus with champagne and wine.
The only caveat: The Giant Ferris Wheel takes just 10 minutes for one rotation. This means you and your dinner will do quite a few rotations until your plate is empty. The pace is slow, though, and the ride is a unique experience during your honeymoon in Vienna.
Address: Praterplatz 1, 1020 Vienna
Get Professional Photo Shoots From Yourselves In Top Spots
I like doing funny selfies of my husband and me. But then, they always look like selfies. If you want to share wow photos from your honeymoon in Vienna without having to rely on passers by, consider booking a professional photographer. He will take you to top spots in Vienna such as the State Opera, Museumsquartier and lovely Stadtpark. You will also get your own private online gallery to share with friends and family. Find out more.
Honeymoon In Vienna: Most Romantic Hotels
Suite at Schönbrunn Palace
Schönbrunn Palace is not a hotel but hosts a single amazing hotel suite. The Grand Suite is located right at the Schönbrunn building, the Habsburg Emperor's former summer residence and one of Vienna's top attractions. From your canopied four poster bed you can see across Schönbrunn's luscious park to the Gloriette belvedere on the hilltop. The interiors get very close to the luxurious Imperial rooms next door. Check customer reviews and best hotel deals.
Hotel Imperial
Austria's most amazing palace hotel scores top on personal service. If you want to sprinkle your bed with 5,000 rose petals, no problem. Have your bath infused with an exquisite blend of flower petals, green leaves and ferns? Leave it to your butler. The Imperial's suites look not much different to those at Hofburg Imperial Palace. Unlike Schönbrunn, the Imperial is located in the city center, at a stone's throw from the State Opera, Musikverein and the historic city. At the hotel's Michelin star gourmet restaurant Opus you can try yourselves on exquisite Viennese Cuisine with an innovative touch. Find out customer reviews and best hotel deals.
There are a few more five star temples that will serve perfectly as honeymoon stays. Check my shortlist of luxury hotels in Vienna.
Hotel Sans Souci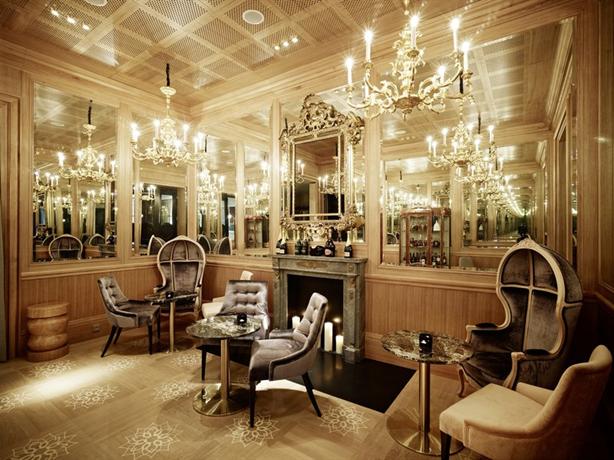 If you a highly romantic yet stylish honeymoon in Vienna choose the slightly more intimate settings of Sans Souci. The hotel only opened in 2014 but has quickly become a favourite amongst travellers. Very rare among Vienna hotels is Sans Souci's 20 meter indoor pool, illuminated by five glistening chandeliers. The hotel is located 5 minutes from Ringstrasse boulevard, at walking distance to Museumsquartier, lovely Volksgarten and Neue Burg, a part of Hofburg Imperial Palace. Access customer reviews and best hotel deals.
If you prefer it a little bit more private then boutique hotels will fit the bill. Vienna has got a few brilliant ones quite recently. Find out which boutique hotels in Vienna are top.
go to Hotels Vienna Austria – Where I would Stay If I Was A Tourist
go to Restaurants in Vienna – Viennese Cuisine Reviewed
go to booking Vienna opera tickets – A Native's Guide
go to Vienna Concerts – Quality Music Events and How To Secure Them
go to Best Austrian Jewelry Stores in Vienna
go to Vienna Shopping – Best Streets, Centers and Addresses in Vienna
go to Vienna Travel Planning – Trip Planning and Travel Consulting by Vienna Unwrapped
back to Visit Vienna – 20 Free Vienna Vacation Tools And Travel Tips
back to Vienna Unwrapped homepage