Four Star hotels in Vienna. Are you hunting for a comfortable and elegant Vienna hotel? I am not going to throw dozens at you, although there are: boutique hotels, bourgeois town houses, historic hotels, and larger hotels with international flair. Instead, my selection of a handful will allow you to zoom in your search on my top tips. Start from those, then broaden your search as you review the hotel deals through the links. You can compare dozens of deals for each hotel.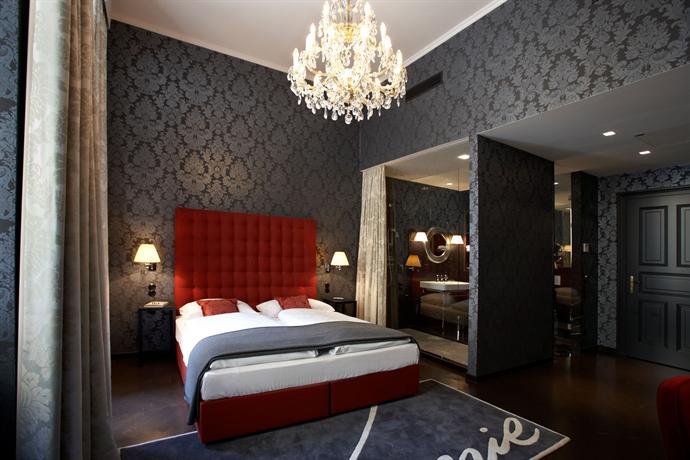 Why is it a good choice among four star hotels in Vienna? The Hotel Altstadt is among the best Vienna hotels. It is probably the city's smartest boutique hotel. It blends the lavish 19th/20th century Viennese style with great design. The Altstadt has a great choice of classic and designer rooms, and offers free internet connection. If you play the piano, rent the Bösendorfer Suite which boasts a grand Bösendorfer piano. If you travel during the ball season, enquire about Vienna ball packages.

My tip: book the Mattheo Thun design suite for a special experience.
Address: Kirchengasse 41; A-1070 Vienna
Nearby attractions: Spittelberg area with its many artist and antique shops; Imperial Furniture Collection (Hofmobiliendepot); Museumsquartier;
Where to book: Check rates and reviews for Altstadt Vienna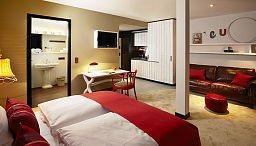 Why is it a good choice among four star hotels in Vienna? The 25 Hours is a member of Design Hotels™ and stands out among local hotels. Its retro-style circus theme is funny and unique. The place boasts a happy mix of vintage and design, which makes it very cosy. Its rooftop bar brings in Viennese locals who go there for after-work drinks. I've been at the terrace and loved the spectacular views of Vienna.
Address: Lerchenfelder Strasse 1-3, A-1010 Vienna
Nearby attractions: Museumsquartier; Museum of Fine Arts; Spittelberg art district; Mariahilfer Strasse (shopping high street);
Where to book: Check rates and customer reviews for 25hours Hotel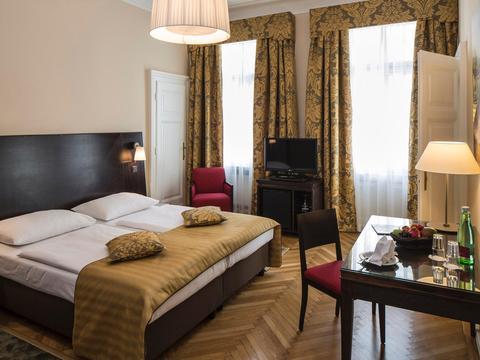 Why is it a good choice among four star hotels in Vienna? The Hotel Astoria Vienna is a fin-de-siècle style place with a distinct Viennese touch. It is both elegant and cosy and is located right in Vienna's big shopping boulevard Kärntnerstrasse. For a four star hotel, it offers one of the best value-for-money deals.

My tip: ask for a quiet room if you are sensitive to outside noise (people, not cars).
Address: Kärntner Strasse 32-34, A-1010 Vienna
Nearby attractions: Vienna State Opera; Albertina; Old Orangery Palmenhaus in Burggarten, housing cafe/restaurant and bar; shops and restaurants
Where to book: Check rates and customer reviews for Hotel Astoria Vienna
Why is it a good choice among four star hotels in Vienna? I've seen reviews from travellers congratulating themselves for having found this perfect place. Rooms are beautifully done and each has something distinct Viennese, from typical chandeliers, Art Nouveau style fabrics to Biedermeier stripes. The breakfast buffet and friendly staff are equally praised. I love the Kaiserhof's discrete but central location in a quiet sidestreet of the 4th district of Wieden, just next to the city centre.
Address: Frankenberggasse 10, A-1040 Vienna
Nearby attractions: baroque Karlskirche, Naschmarkt, around 10 min walk from the city centre;
Where to book: Check rates and reviews for Best Western Premier Kaiserhof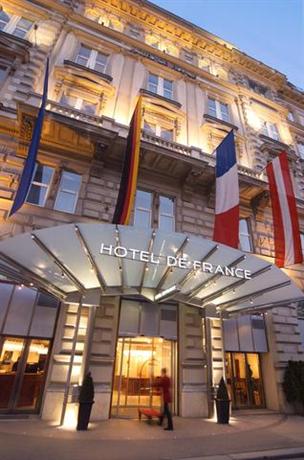 Why is it a good choice among four star hotels in Vienna? The Hotel de France Vienna boasts cosy Viennese-style interiors in the lobby and most guest rooms. It has a lovely atrium courtyard and is located on the Ringstrasse, at seven minutes walk from the old town in the centre. The De France is also among the four star hotels in Vienna offering the best value packages.
Address: Schottenring 3, A-1010 Vienna
Nearby attractions: Inner City with shops, restaurants and pedestrian area; local Christmas markets in winter; summer food fair in front of City Hall; Vienna's Summer Stage at the Danube Canal; Burgtheater;
Where to book: Check rates and customer reviews for Hotel de France
More Four Star Hotels In Vienna: Hotel Harmonie
Neighbourhood Hotel With Good Flow (advertorial)
Where to book: check rates and customer reviews for Hotel Harmonie
back to Hotels Vienna Austria
back to Visit Vienna
back to Vienna Unwrapped homepage