Design Hotels In Vienna. Do you love urban style but want to feel Vienna? A few contemporary places display fabulous modern interiors while preserving a distinctive local touch. Each year, new design temples open up here, making the choice even tougher. I have taken the first step for you and shortlisted the best design hotels in Vienna, including large, medium and boutique places. Start reviewing from here.
1. Hotel Das Triest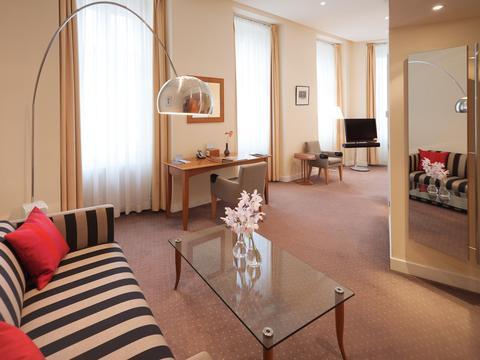 Why is it among the best design hotels in Vienna? What happens when international star designer Sir Terence Conran sets his hand to a Viennese Biedermeier hotel? Just look at Das Triest. Where once the horses of the Imperial Viennese courier service relaxed international artists and celebrities now put their head to rest.
Not only has Conran brilliantly transformed the former horse stable. He has also created one of the most bespoke design hotels in Vienna. Since 2019 Das Triest also boasts a sensational shiny bar, blending in photographs of the old Imperial harbor of Trieste (now part of Italy).
Located in Vienna's bustling Freihaus district, Das Triest integrates stunning art work and accessories by local and international artists. During meal times in the warmer months, enjoy the beautiful courtyard for breakfast, lunch or dinner. Besides, where else in central Vienna can you dwell in a garden suite?
Address:Wiedner Hauptstrasse 12, A-1040 Vienna
Nearby attractions: Naschmarkt (Vienna's biggest food and flea market), Café Heuer, Vienna Secession; baroque Church St. Charles Borromeo, Resselpark;
Where to book:Check rates and customer reviews forHotel Das Triest;
2. Le Meridien Vienna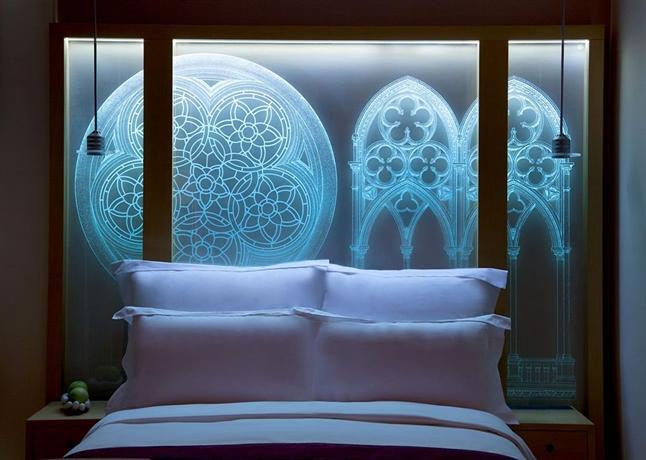 Why is it among the best design hotels in Vienna? Whether you love sleek design, clever art references to history or extravagant amounts of space, Le Méridien Vienna ticks the boxes. But not only that. Most of all, customers praise its ridiculously perfect location along Ringstrasse boulevard, a stone's throw from Kunsthistorisches Museum, the State Opera, Hofburg Imperial Palace, Naschmarkt, Vienna Secession and Museumsquartier.
Before you wonder, yes, the hotel has sound proof rooms. What's more, Le Méridien offers a complimentary mobile hot spot, which you can take with you while sightseeing. Every now and then, the hotel hosts glamorous local art, music and fashion events which you can join.
Address:Opernring 13, A-1010 Vienna
Nearby additional attractions: Albertina Museum; Palmenhaus (Orangery bar and restaurant in Burggarten); Kärntnerstrasse with its many shops and nearby restaurants;
Where to book:Check rates and reviews for Le Meridien Wien;
3. Hotel Lamée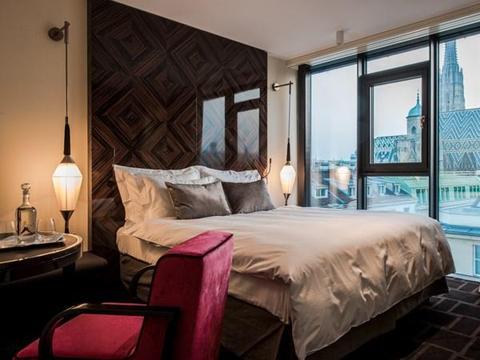 Why is it among the best design hotels Vienna? Being on a par with its stylish sister of boutique Hotel Topazz, Lamée would totally qualify as a boutique gem, too, with an equal 32 rooms and suites. Probably the largest difference is that this hotel holds back with an original minimalist exterior from 1934/35.
When it comes to the interiors, Lamée's 1930's style floats between red velvet, dark polished wood, marble and and geometric lampshades. Behind the scenes, though, this hedonistic bolthole is also one of the few low energy hotels in Vienna: A groundwater well and a controlled ventilation system both heat and cool the building on a highly efficient level.
However, the top trump card for guests and outside visitors is Lamée Rooftop. Offering cosy seats in exciting colours, the terrace boasts views of Stephansdom so clear you feel you can almost touch it. To be honest the only major caveat is the hotel's single elevator that needs to transport both hotel guests and terrace visitors.
Address:Rotenturmstrasse 15, A-1010 Vienna
Nearby attractions:Stephansdom (St. Stephen's Cathedral), Graben boulevard, the old University quarter;
Where to book:Check rates and customer reviews for Hotel Lamée;
4. Max Brown Hotel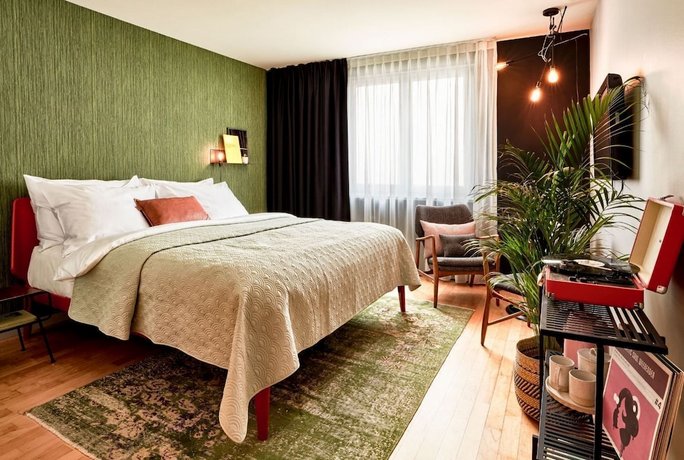 Why is it among the best design hotels Vienna?If you like bohemian style, this urban design spot may feel just like your apartment: 1960s retro design, cosy fabrics in vivid yellow and dark green, cacti, gum trees, and decorative knick knacks. Being part of the Europe Hotels Private Collection, the Max Brown Hotel in Vienna invites for a relaxed stay at the edge of Vienna's trendy design scene in Neubau. As for the rooms, you can choose between four different sizes, from 20 to 34 square meters.
Definitely the most fancy highlight is the hotel's own little movie theatre, complete with theater seats, chandeliers and gilded frames.
While the hotel has created its own wonderful world, it mirrors the bohemian style of its surroundings, such as Kaffeebar Quentin in nearby Kaiserstrasse, or popular Wirr cafe and bar in Berggasse. To head for the city center, take tramway 46 from the nearest stop in Schottenfeldgasse, a 5 min walk.
Address:Schottenfeldgasse 74, A-1070 Vienna
Nearby attractions:Hofmobiliendepot (Museum of Furniture), Museumsquartier, Volksgarten
Where to book:Check rates and customer reviews for Max Brown Hotel
5. Hotel Rathaus Wein & Design Wien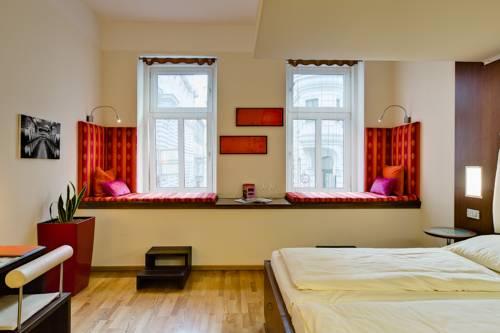 Why is it among the best design hotels in Vienna? Because of Vienna's unique status as a wine-growing metropole and the lush surrounding vineyards, the Fleischhaker family decided to share their passion for wine with their hotel guests. This makes their hotel the ONLY wine themed hotel in Vienna.
In addition, the family's taste for good design makes Hotel Rathaus Vienna THE boutique hotel for modern wine lovers.
Since each month is dedicated to a special regional vintner, you can taste and discuss topical wines, and learn about wines and vintners on-site. In fact, the hotel's 40 patron vintners are among the best in Vienna and surroundings and make for a fabulous day out, too. To help promising young vintners, the Fleischhakers also present a talented young wine maker each month.
As for location, the hotel is situated in the central Josefstadt neighborhood, which some have been referring to as Vienna's beletage: An excellent opportunity to discover charming church squares, historic passageways and independent shops. Apart from that, Rathaus metro station and tramway stations are close by.
Address:Lange Gasse 13, A-1080 Vienna
Nearby attractions:Museumsquartier; Museum of Fine Arts; Parliament; Volksgarten;
Where to book:check rates and customer reviews for Hotel Wein & Design;
6. The Levante Parliament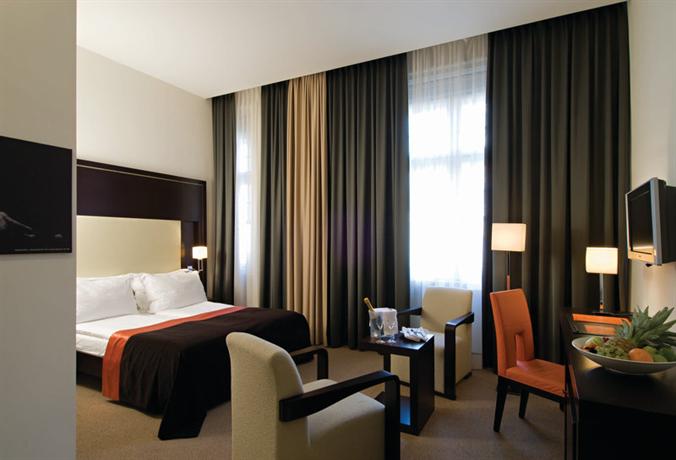 Why is it among the best design hotels in Vienna? At first sight, the stern Modernist facade reminds of a school or government building. In fact, where hotel guests now rest their heads in style, well-off patients enjoyed top care at a private sanatorium between 1908 and 1964. Although the Levante Parliament is on a busy street just behind the Austrian Parliament, the interiors are absolutely quiet.
Basically, the Hotel Levante Parliament mixes elements of an art gallery with a five star boutique hotel. Besides other design elements, the glass sculptures in the lobby amaze. In the warmer months, guests can dine in the beautifully designed vast courtyard – a rare exception in such a central area. Since the hotel has had a few years since its last refurbishment, go for a confirmed updated room or suite.
Address:Auerspergstrasse 9, A-1080 Vienna
Nearby attractions: Vienna City Hall (Christmas market in winter and food fair in the summer at main square in front); Ringstrasse, Burgtheater, Volkstheater; Parliament; Old Hospital (Altes AKH) for summer outdoor food and drink;
Where to book:Check rates and customer reviews for The Levante Parliament
7. Hotel Daniel Vienna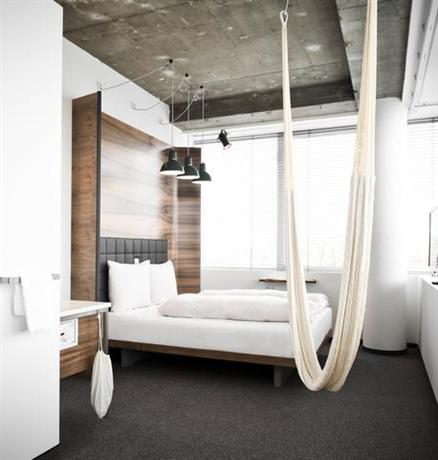 Why is it among the best design hotels in Vienna? At the Daniel, edgy clearly outstrips traditional. In fact, when I want to explain to people where our zeitgeist materialises, I can finally point to a smart luxury design space such as the Daniel.
For example, certain rooms allow you to swing in a hammock, 'reach out' to nearby Belvedere Palace through enormous glass fronts, and make yourself comfortable in a shiny chrome caravan in Daniel's garden. Besides, Daniel keeps hundreds of bees on its rooftop and makes its own breakfast honey.
My tip: Ask for a quiet room with a conventional cupboard instead of the usual rack if you bring more clothes and want peace and quiet.
Like The Guesthouse at Albertinaplatz, Daniel also runs its own bakery for a truly crispy breakfast. On top, you can borrow bikes and vespas for a fun city exploration from as little as EUR 5 per day. Caveat: While the location between Belvedere und the Central Train Station is perfect, not everyone will appreciate Daniel's location next to a multiple- lane city street.
Address:Landstrasser Gürtel 5, 1030 Vienna
Nearby attractions:Belvedere Palace and Gardens;
Where to book:Check rates and customer reviews for Hotel Daniel
For more design inspiration, you will find some design jewels in Four Star Hotels In Vienna, and also in Three Star Hotels.
back to Hotels Vienna Austria
for a feel of Vienna's neighborhoods, check my guide Vienna Districts and Best Neighborhoods
find more travel tips to Visit Vienna
go to Vienna Unwrapped homepage