Styria
11. Austria Travel Guide: Graz
The capital of Styria is a World Cultural Heritage, but a far cry from tourist hot spots. Graz' historic main square is lined by colourful town houses; its street market, the traditional chimes, the gothic dome and noble palaces are deeply Austrian. I love its renaissance courtyards, best of all the Landhaus courtyard. 18th century Herberstein Palace on the way to Graz is a must see. Graz' boldest design statement is the Island in the Mur – have coffee in that otherworldly glass snail right on top of Mur river. Insider tip for chocolate lovers: visit the Zotter chocolate manufactory south east of Graz for a degustation and tour.
By train: Wien Meidling train station to Graz main station; approx. 2.5 hours
By car: via A2 highway: approx. 2.25 hours
Guided day tour from Vienna: Styrian Castles Route and Graz Tour
12. Austria Travel Guide: Alt Aussee and Toplitzsee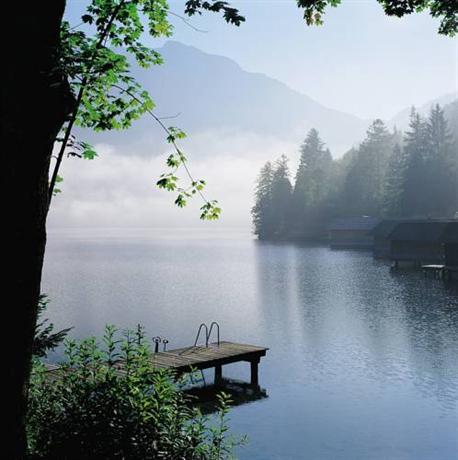 The highly picturesque village nests between the shores of lake Altaussee and the Loser mountain and scores high on traditional Austrian culture. If you were an upper middle-class Austrian, a writer, musician or painter, you would spend your summers in Alt Aussee, go skiing in the winter, and possibly own a second residence there. You would wear a dirndl and a lederhose as if they were a pair of jeans. And you wouldn't bat an eyelash over folkore here, as you would know it is authentic. My best experience in the area was a boat ride on mystic Toplitzsee near Alt Aussee. (photo: Hotel Seevilla, Altaussee)
By train and bus: Wien Westbahnhof or Wien Meidling train stations to Alt Aussee Kurhaus; approx. 4.5 hours
By car: via A2 highway; approx. 3.5 hours
Find Hotels in Altaussee
13. Austria Travel Guide: Dachstein
"THIS is what I call mountains…". My family has skied there and visited the Dachstein ice caves during the summer. Next on the list is a hiking tour in Gosau. I can't wait to go up by cable car with that spectacular view of Gosau glacier lake, then do a family hike at Zwieselalm and have a good Austrian snack at all those Alpine log cabins I know from skiing. Insider tip: at Ramsau, visit the gigantic Ice Palace made of ice carvings from glacier ice, and the free-standing Skywalk panorama terrace for that extra thrill.
By train: Wien Westbahnhof train station to Ramsau am Dachstein: approx. 5 hours
By car: approx. 3 hours
Hotel Tips
For an utterly romantic vintage feeling Altaussee, book yourself in at Seevilla. In Graz, go for Schlossberg Hotel; the best place to stay at Dachstein are the Alpen Chalet in Gosau and Posthotel in Schladming. Get more Hotels in Styria.
Carinthia
14. Austria Travel Guide: Millstättersee and Gösselsdorfer See
Carinthia, Austria's southern federal region, is the paradise for swimmers, hikers, skiers and lovers of great food. Lake Wörth (Wörthersee) is the largest, warmest and loudest of them. If you follow the insider's path, dip your toes into quiet and romantic Millstättersee, rent a canoo or a rowing boat at sunset, and take your loved ones for a perfect hike or skiing tour. Insider tip: Have a floating dinner on the lake at Koller's Hotel in Seeboden.
Tiny and warm lake Gösselsdorf is located in a nature reserve. The water is infused with the locally growing calmus plant which is known for its skin regenerating conditions. Continue past the public lake resort through the woods to find the most peaceful bit of lake.
By train and bus: Wien Westbahnhof to Millstatt Strandbad; approx. 5.5 hours
By car: via A2 highway; approx. 4.5 hours
15. Austria Travel Guide: Alpine Wellness Oases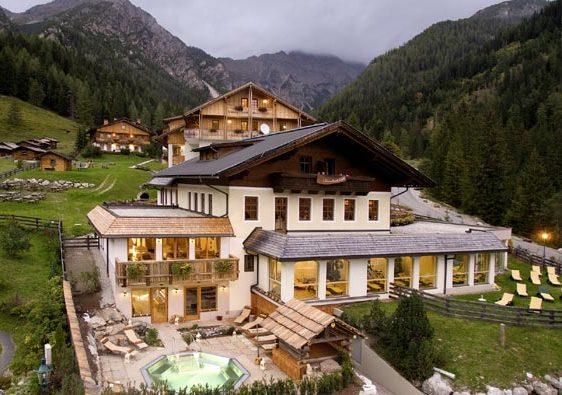 Coming from Vienna, you could do with putting your feet up. There are a few wellness spas in Carinthia that offer different treatments.
Where I would stay if I was a Vienna traveller hungry for a peaceful switch of scenery: definitely in a bed of hay on the Alpine floating bed, then get an Alpine rock salt and moor mud treatment at the Almwellness Hotel Tuffbad in St. Lorenzen; Alternatively I would plunge into a solar-powered natural pool in the mountains, warm up in a stone-pine sauna, and get an Alpine essential oils massage at Hotel Feuerberg at Ossiacher See. Click for a selection of hiking, biking and nature tours.
By train and bus: Wien Westbahnhof to St. Lorenzen im Lesachtal; approx. 7.25 hours
By car: via A2 highway; approx. 5.5 hours
16. Austria Travel Guide: Klagenfurt and Wörthersee
Carinthia's regional capital is easy on sightseeing, leaving space for great food and hanging out in local cafés. Start from the beautifully redesigned main square Neuer Platz, then stroll through the inner city. My Klagenfurt-based aunt's favourite is the local farmers market at Benediktinerplatz, a multicultural mix between Italian fishmongers, Slovenian and Carinthian farmers. Insider tip: have lunch or dinner at Theatercafé. Klagenfurt is located next to Lake Wörth. Its key towns Velden and Pörtschach are posh and buzzing during July and August: The dozen mostly Austrian and German celebrities who have summer residences there attract a sizeable party crowd. The best hotels in Carinthia can be found here.
By train: Wien Meidling to Klagenfurt central station; approx. 3.75 hours
By car: via A2 highway;
Hotel Tips
Exceptional places to stay are the Villa Verdin in Millstatt and Koller's Hotel in Seeboden at Millstättersee; in Klagenfurt, go for  Hotel Palais Porcia. Search for the dozens of great hotels in Carinthia.
Tyrol
17. Austria Travel Guide: Karwendel Mountains
The Tyrolean Karwendel mountain range belongs to Austria's largest nature park. The most charming thing to do there is a ride with the Achensee rack and pinion steam railway, one of the oldest in the world. It takes you through the mountains from Jenbach to the southern banks of lake Achen. Spend some time in the 15th and 16th century renaissance and baroque village of Schwaz.
If you are after rural idyll and light hiking, head for traditional Eng village. It is completely car free, full of old Alpine lodges, rare mountain acorn trees, and hiking trails leading off into the mountains. In the mornings, watch local cheese makers at work.
By train: Wien Westbahnhof to Jenbach; 4.75 hours
By car: via A1 highway, approx. 4.75 hours
Search for hotels in Tyrol.
18. Austria Travel Guide: Innsbruck
Tyrol's capital has one of the most beautiful city sceneries in the world. Surrounded by white mountain peaks, Innsbruck contrasts Vienna like no other Austrian city. My favourite sites there are the Hofburg (yes, they have one there, too), the Kaiserjägermuseum and the Alpine zoo. Tyrol's long fight for independence and its libertarian mountain people is rolled out brilliantly at the museum. You will get to know a very different perspective of Imperial Vienna in that other corner of Austria. Enjoy the typical arcades of 16th century townhouses along Herzog-Friedrich-Street, which ends at the Goldenes Dachl (Golden Roof), Innsbruck's top landmark. Insider tip: visit 1,100 year old Ambras Castle in the outskirts.
By train: Wien Westbahnhof to Innsbruck central station; 4.25 hours
By car: via A1 highway, approx. 5.25 hours
19. Austria Travel Guide: Swarovski's Crystal Worlds
Many of our friends and family have either a Swarovski crystal glass figurine in their vitrine, or wear some kind of Swarovski jewellery (myself included). If you belong to the international fan community, don't miss Swarovski's monumental theme park at its headquarters in rural Wattens. The attractions are high quality and crystalise your experience of ice, snow, pure water and magical nature. Needless to say that your crystal shopping experience at Swarovski's headquarters will rock.
By train: Wien Westbahnhof to Fritzens/Wattens; 4.75 hours
By car: via A1 highway, approx. 5 hours
Hotel Tips
The Hotel Goldener Adler is Innsbruck's first address. In Schwaz, get into sweet traditional Hotel Plankenhof. Click here for Hotels in Innsbruck.
Vorarlberg
20. Austria Travel Guide: Lake Constance and Bregenz
At long stretched Lake Constance ('Bodensee') you are entering multinational territory. Austria, Germany, Switzerland and Liechtenstein share the lake. It is one quarter larger than Vienna.
Between mid April and mid October, boats take you across the lake from Vorarlberg's capital Bregenz to Mainau island and German Konstanz. If you love plants, make sure you spend some time at flower paradise Mainau island.
Bregenz is the oldest city at the shores of Lake Constance. I could spend hours in the medieval upper town with its timber-framed town hall. Between April and October, climb up 13th century Martin's Tower ('Martinsturm') with its huge wooden dome, the city's landmark.
Theatre fans: expect to be over the moon when attending an open-air theatre/opera staged right on the lake during the annual Bregenz Festival in July/August. Insider tips: watch the sunset at Fischersteg's Sunset Bar; take the Pfänderbahn cable car to traditional inn Gasthaus Pfänderspitze for spectacular views of Lake Constance.
By train: Wien Westbahnhof to Bregenz; approx. 7 hours
By car: via A1 highway, approx. 6.75 hours
21. Austria Travel Guide: Bregenzerwald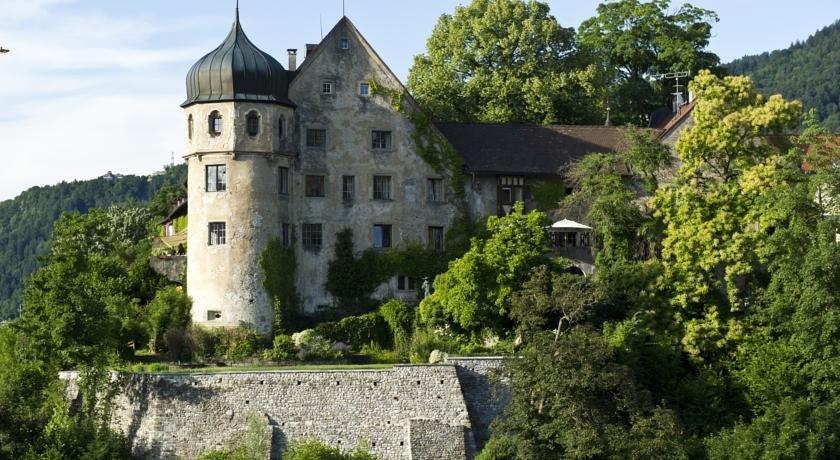 Heart-stoppingly wild and beautiful is the forestry region of Bregenzerwald. It is like falling through a time hole back to Celtic and Rhaeto Roman times. For many centuries, the mountaineous area had been largely closed off to the rest of the world. It is utterly rough yet beautiful. Mountain peaks share the space with lush meadows, forests, gorges, waterfalls and flat hollows. During a village hopping tour you will get the best insight into local culture and crafts. Their hard cheese is among the best in Austria. The local fine lace is renown across Europe. The villages of Bezau, Mellau and tiny Damüls are great starting points, as they are all close to a cable car. Tip: Ask for the Bregenzerwald Guest Card at your hotel. (photo: Deuring Schlössle-Hotel)
By train and bus: Wien Westbahnhof to Bezau bus station; approx. 8 hours
By car: via A1 highway, approx. 7.25 hours
Hotel Tips
Deuring-Schlössle castle hotel in Bregenz catapults you straight back to the renaissance; Search for Hotels in Vorarlberg.
Search For Austrian Train Connections
Austria Travel Guide. How difficult is it to rent a car and drive in Austria? What options should you watch out for to make a good deal?
We sometimes rent a car when we visit my family in Austria so I have put together some tips in my car rental Vienna guide.
go to Day Trips from Vienna – Salzburg, Bratislava, Wachau, Budapest, Burgenland, Vienna Woods
explore Vienna Salzburg Day Trip – Small Group Tour Review
find out about a Mini Danube Cruise – Vienna to Bratislava by Boat
check my Vienna Budapest Day Trip – Tour Review
go to Wachau Valley Tour – Wine And Danube Tour Review
need help with planning your Austria trip? go to Vienna Travel Planning and find out how I can help you
go to Visit Vienna – 20 Free Vienna Vacation Tools and Travel Tips
back to Vienna Unwrapped homepage